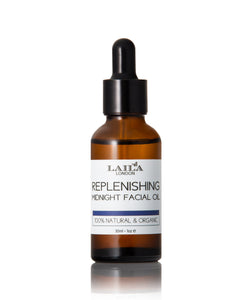 Replenishing Midnight Facial Oil
Our Replenishing Midnight Facial Oil daily moisturising oil soothes, smooths, and hydrates the skin. Anti-aging active plant oils deliver vital vitamins, antioxidants and nutrients to the skin, leaving your complexion radiant. Suitable for dry, dehydrated, delicate skin. This oil can also be used as a serum under moisturiser for dry skin.
Replenishes skin while you sleep, supplementing its natural overnight recovery process, to reveal a rested and restored appearance by morning. 
Marula oil is packed with amino acids L-arginine and glutamic acid which have anti-aging, hydrating properties including vitamins E and C, which fight free radicals and may stave off skin damage caused by the ultraviolet rays of the sun and pollution  
Jojoba is full of nutrients like Vitamin B and E, as well as antioxidants and minerals like copper, chromium, and zinc, which all nourish and protect skin. We use organic, cold-pressed, jojoba oil has the highest level of antioxidants and nutrients
Blended with a variety of theraputic essential oils known for their skin healing benefits.
Best facial care
My skin has never looked better! I love this product
Noticeably different
My skin is noticeably different in all the right ways. Hydrated and revitalized
Replenishing Midnight Facial Oil?
Love this oil. Silky and absorbs well.
A product to recommend. Thank you
This product was received at a discount in exchange for an honest and unbiased review. This is a lovely oil serum, my skin felt so soft and I look forward to using again. It has now begun it's work on the wrinkles and am sure it will give desired results. A product to recommend. Thank you.
Great product!
I read all the good reviews of this product and purchased it although originally I was looking for marula oil. I have now used it for a week and I find it truly amazing how it works on my skin. Very nice smell too and lovely consistency. Does not leave the skin oily and I can even apply foundation on top 5 minutes after applying the oil as my foundation is fast drying. Surely would recommend this product and will buy again once in stock!